Post by Hatzegopteryx on Feb 15, 2014 23:55:45 GMT
Skeletal of Ekrixinatosaurus novasi's sister taxon, Skorpiovenator bustingorryi.
Scientific classification
Temporal range:
Cenomanian, Late Cretaceous, 95 Mya
Kingdom:
Animalia
Phylum:
Chordata
Clade:
Dinosauria
Clade:
Theropoda
Family:
†Abelisauridae
Subfamily:
†Carnotaurinae
Clade:
†Brachyrostra
Genus:
†
Ekrixinatosaurus
(Calvo, Rubilar-Rogers & Moreno, 2004)
Species:
†
E. novasi
Binomial name:
Ekrixinatosaurus novasi
(Calvo, Rubilar-Rogers & Moreno, 2004)
Phylogeny
Canale
et. al
(2008)'s phylogenetic analysis:
Size
Length:
~7-8 metres
Mass:
~1500kg
Ekrixinatosaurus'
s size is very controversial. 11-metre figures run around, but they are only results of bad scaling. According to Canale
et. al.,
2008, both
Ekrixinatosaurus
and
Skorpiovenator
are sister taxons. Scaling from
Skorpiovenator,
we get ~7 metres.
Description
Ekrixinatosaurus
(Explosion-Born Reptile) is a genus of dinosaur which lived during the Cenomanian Late Cretaceous, 98 million years ago. Its fossils have been found in Argentina. The type species,
Ekrixinatosaurus novasi
, was first described in 2004 by Argentinian paleontologist Jorge Calvo, and Chilean paleontologists David Rubilar-Rogers and Karen Moreno. It was discovered in the Candeleros Formation, a geologic formation that outcrops in Río Negro, Neuquén, and Mendoza provinces of Argentina. The formation dates from 100-97 mya.
Ekrixinatosaurus's
skull, top view, compared to four other theropods: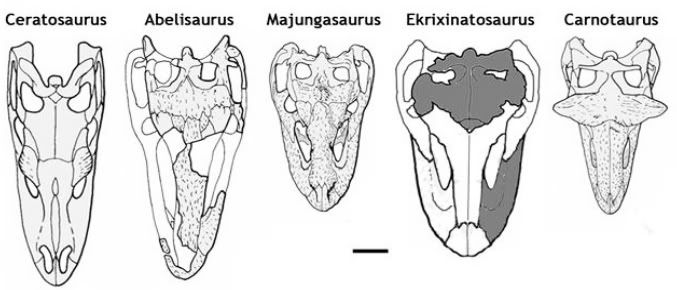 Paleocology
Ekrixinatosaurus
shared its environment with several giants. Titanosaurian sauropod
Andesaurus
and rebbachisaurid sauropods
Limaysaurus
and
Nopcsaspondylus
were probably the dominant herbivores in its region, as well a iguanodont ornithischian remains, which have been reportedly found there. Carcharodontosaurid
Giganotosaurus
was possibly the apex predator, and smaller predators also inhabited the area. These included dromaeosaurid
Buitreraptor
, alvarezsaurid
Alnashetri
, and basal coelurosaurian
Bicentenaria
. The primitive snake Najash lived here as well, along with turtles, fish, frogs, cladotherian mammals, and pterosaurs.
Ekrixinatosaurus novasi wasn't as large as previously thought, thus it could have been outcompeted by Giganotosaurus carolinii.
---
Papers
1. New Information on Ekrixinatosaurus novasi Calvo et al 2004, a giant and massively-constructed Abelisauroid from the "Middle Cretaceous" of Patagonia

"Abelisauroid theropods represent an important component in the Cretaceous faunas of
Gondwana and Europe. Although the first fossil remains of taxa belonging to the group were
recovered in the last decade of the nineteenth century, it was only with the recovery of more
complete, and in some cases, exquisitely-preserved specimens towards the end of the twentieth
century that this diverse clade of distinctive predators was formally recognized. In the past two
decades, knowledge about abelisauroids has increased notably with respect to their anatomy,
systematics, stratigraphic and geographic distribution, and, to a lesser degree, the palaeoecological
setting in which they lived. In this last respect, several recent works on Gondwanan theropods
have interpreted abelisauroids as forms of modest and medium body size that co-occurred with
giant carcharodontosaurids during the Early and early Late Cretaceous. It has been hypothesized
that it was only after extinction of the carcharodontosaurids that abelisaurids diversified into
more robust forms that occupied the niche of top predators of their ecosystems (Apesteguía 2002,
Candeiro & Martinelli 2005). Here we provide new information on the poorly known abelisaurid
Ekrixinatosaurus novasi (Calvo et al. 2004), with considerations on its anatomy, stratigraphic
provenance, and paleoecology."

Link to the paper: www.notosoft.com.ar/pdfs/Juarez_Porfiri_Calvo.pdf